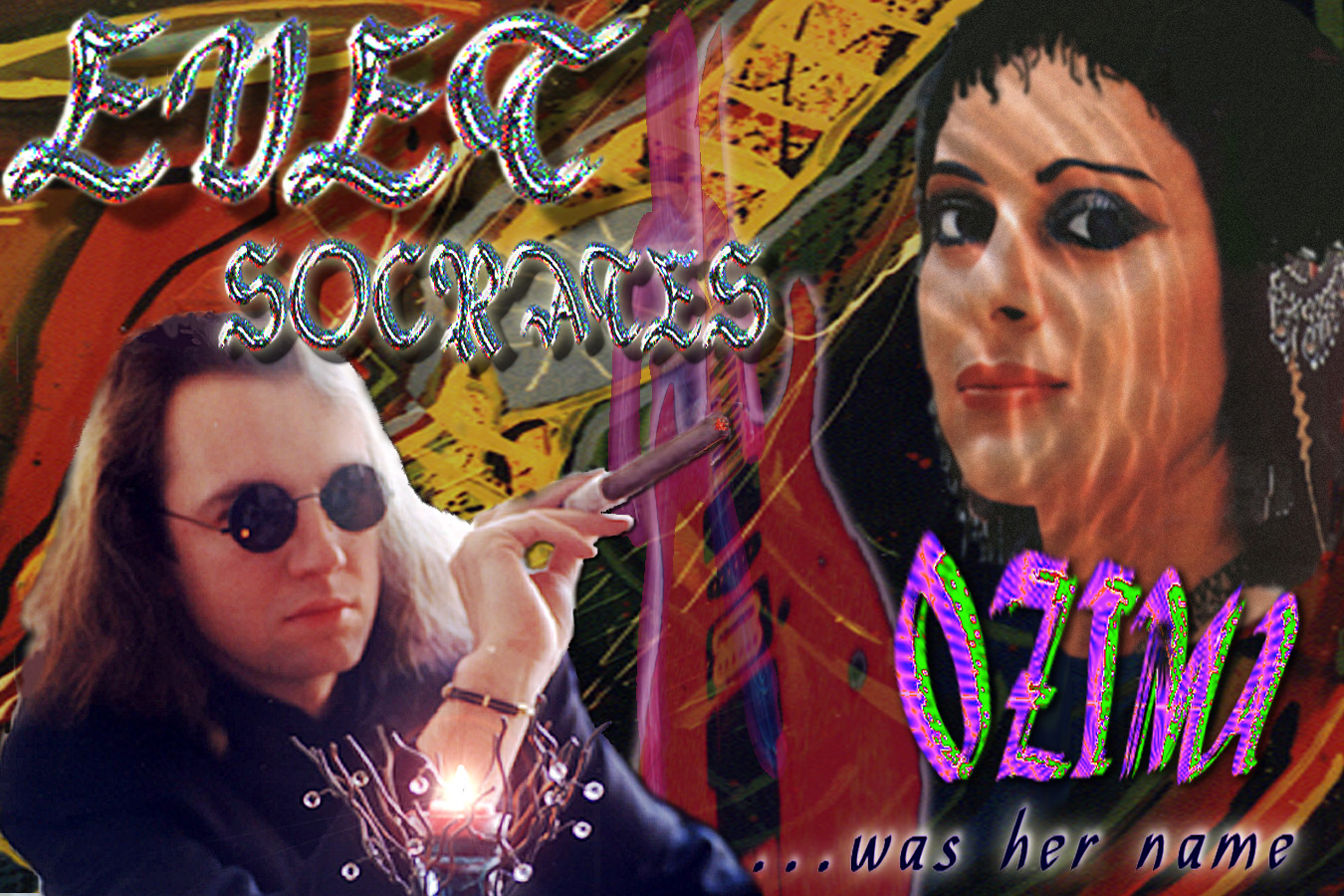 OZIMA WAS HER NAME... originally recorded at Blam Studios, Chicago, now being remastered officially.
   Ozima was begun a year after Evet had moved to Chicago, about 1997. Evet was working with his band Fresco Aegea at the time doing experimental distorted classical guitar Techno with live percussion. At the time he was using a Roland VS-840, a semi CD quality digital 8 track, a Yamaha SY-55 keyboard, and a popular drum machine with some obscure sounds Evet used to full effect. He was putting the songs down on cassette as "Random Music" and this time frame became the "Ozima sessions", including Aegea (along with bass tracks), Italia (recorded live), and Acid Tears (originally written in 1995). Soon Evet acquired new technology of the time, a Yamaha 4 track 'Minidisc' digital recorder. On this was recorded Di Is Dead, the night of her death; Om Siam foundation tracks, Ozima's electronic percussion and synths, Simbel's and Magus' percussion loops, and most of Fire Curtain (including samples from popular horror films) and the first half of Scorpionfish (which featured creative use of Digitech's GSP 2101's effects then inputted to a very ahead of it's time Lexicon product called "The Vortex" which had true effects morphing/warping and such presets as "Aerosol". It was a great unit but soon to be realized badly made, and liquidated- both units died  by 2003.
These units were part of Evet's trademark sound from pre-Ozima to Vaporeyes.)
   By the Summer of 1998 Evet was ready to truly achieve a new level of sound so he went into the studio. He chose Blam studios, near Loyola College and the beach. Tracks were recorded on 2- 8 track ADAT tapes. Studio instruments included piano, 12 string acoustic guitar, Evet's Eleanor Ibanez played through a Marshall JCM-900, and keyboards and sequences triggered in real time. First recorded was Om Siam and Ozima.
Evet called in is band mate Cris Phillips to add exotic percussion, bells, cymbals, shakers ect. to the tracks Ozima, Simbel, Magus, and Fire Curtain. He also played with Evet on the live tracks of Italia.
At the mixing stage, Evet and engineer Eric Butkus had maxed out the board's and ADAT capabilities. Mixing took about 3 days including one 24 hour session! Evet remarked on one of those days he saw a perfect rainbow over Lake Michigan... a truly awesome experience. Mixing was finally done mid 1998. To have an extra CD made, at the time, cost you $30! A month later Bauhaus came to Chicago on their reunion tour, and after one of the shows as Peter Murphy was leaving, Evet gave him a CD with the tracks Ozima and Aegea. Later on that tour, Evet saw them again in Washington  DC, and Evet asked him what he thought. Mr. Murphy commented he liked the lyrics a lot.
Looking back, the album still sounds timeless with it's unusual arrangements and striking vocals. Evet plans to include "Ozima" in his future performances.
www.Facebook.com/evetsocratespage